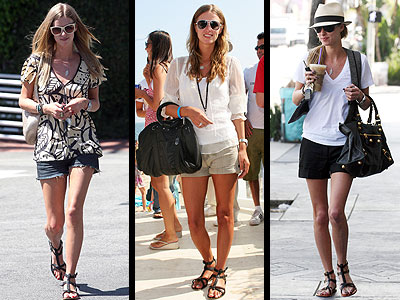 Beyond the Rack and Moxsie have come together to bring avid shoe-lovers the collection of their dreams. Emerging brands 80%20, Generic Surplus, Matt Bernson, and Native showcase the latest styles, the coveted designs, and the top-notch craftsmanship you seek. Here's a quick summary of each brand so you can put your best foot forward.
80%20 The concept behind 80%20 came from designer Ce Ce Chin's observation that we tend to wear our favorite 20% of our wardrobe 80% of the time. The smallest percent has the greatest impact. The ratio of knowing your life, your style, and your aspirations: 80% life, 20% shoes=100% love. For the lifestyle you live, you need the footwear that takes you there. Live your life with fun-loving fashion and easy, effortless style.
Generic Surplus is an extension of the line Generic Man. More than a decade ago, the founders began what they call "a case study in adultism" in their NYC loft, determined to define the meaning of adulthood. They emerged with the concept of "Newdult," a "generic man" who's tired of pretentious street wear and how unattainable luxury items can be. The Generic Man brand sought to confront what was available by dispensing with brand names in favor of quality construction and elegant simplicity. Generic Surplus, in turn, represented the best of American sportswear with mute or neutral color palettes, simple and practical design, and personalized by the wearer. The brand has created editorial buzz among shoe-enthusiasts who appreciate the military inspired appeal.
Matt Bernson is based in Tribeca and designs luxurious sandals for women inspired by the ocean, travel, and his partner's style. Every piece is hand produced in an artisan workshop in the south of Brazil. With a design focus on elegant-casual constructions – where "downtown meets the beach" – the brand has gained a significant following among style icon celebrities such as Sarah Jessica Parker, Leighton Meester, and Brazil native Gisele Bundchen. Sexy style and comfort remains the ultimate priority and the designer believes his loyal customers look for more than just what's trendy. They crave something more and he delivers.
Native Inspired by classic, casual silhouettes, but made with the lightest and most comfortable materials available, Native Shoes are the best of both worlds. Footwear for the future done in the style of everything we've ever loved about shoe design. You can slip them on for a quick stroll, throw them into your backpack for a day at the beach or keep them on hand for later. The aesthetic is relaxed, flexible and active. Enjoy footwear for anybody, anywhere, anytime.
Check out the Moxsie Youtube video to get a closer look!
Find the perfect pair of shoes and get some seriously happy feet. Event on now!